Bathtub Resurfacing Basics
What is Bathtub Resurfacing?
Are you tired of staring at your old, worn-out bathtub every time you step
into your bathroom? If so, you may be considering replacing it. However,
before you take on the cost and time commitment of a full bathtub
replacement, consider an alternative option: bathtub resurfacing.
Bathtub resurfacing, also known as bathtub refinishing or reglazing, is the
process of restoring an old or damaged bathtub to a like-new condition.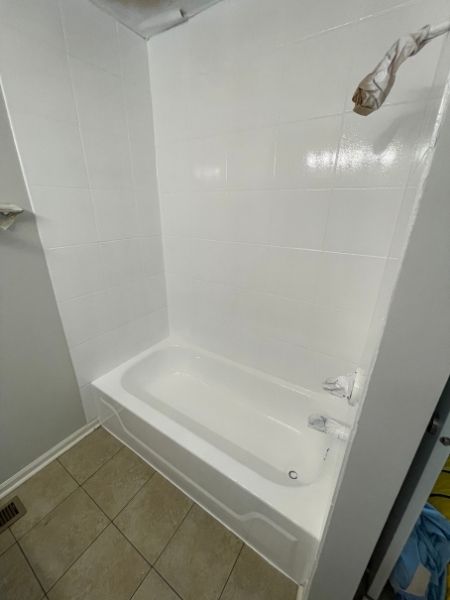 This process involves applying a new coating to the bathtub's surface to
repair any chips, scratches, or cracks and improve its appearance.
Here are some of the benefits of bathtub resurfacing:
Cost-effective: Bathtub resurfacing is a more affordable option
compared to bathtub replacement. You can save up to 75% of the
cost of a full replacement.
Time-saving: A full bathtub replacement can take several days to
complete, while bathtub resurfacing typically takes only a few hours.
Environmentally friendly: By choosing to resurface your bathtub, you
are helping to reduce waste and prevent old tubs from ending up in
landfills.
Customizable: You can choose from a variety of colors and finishes to
match your bathroom décor and style preferences.
Here is a step-by-step guide of what is involved in bathtub resurfacing:
Preparation: The first step is to thoroughly clean the bathtub and
remove any old caulking, soap scum, or other debris. Next, our
technician will repair any chips, scratches, or cracks in the bathtub's
surface.
Etching: The next step is to mildly etch the surface of the bathtub
using an acid solution. This helps to create a surface that the new
coating can adhere to.
Coating: After the surface is etched, the technician will apply a
bonding agent and a topcoat to the bathtub. The topcoat can be
customized to the color and finish of your choice.
Curing: The final step is to allow the new coating to cure. This
typically takes about 24 hrs, after which the homeowner can remove any remaining tape and paper and use the bathtub.
Overall, bathtub resurfacing is a cost-effective and convenient way to give
your bathroom a facelift without the time and expense of a full bathtub
replacement. With proper care, your newly resurfaced bathtub can last for
many years to come. For more information, visit us at HudsonValleyResurfacing.com or Call 845-540-3773